Pest Control in Ajman: How to protect your home from uninvited guests
Table of Contents1. Introduction2. Pestokill: Ajman's Trusted Pest Control Expert3. Why is Pestokill more demanded?4. Ajman Pest Control: A Solution for Every Pest5. Affordable Pest Control Service in Ajman6. Ajman's Top Pest Control Companies of 2023 * Our Top Picks7. Residential Pest Control in Ajman: Keeping Your Home Pest-Free8. Commercial Pest Control Solutions in Ajman:…
Table of Contents
1. Introduction
2. Pestokill: Ajman's Trusted Pest Control Expert
3. Why is Pestokill more demanded?
4. Ajman Pest Control: A Solution for Every Pest
5. Affordable Pest Control Service in Ajman
6. Ajman's Top Pest Control Companies of 2023
* Our Top Picks
7. Residential Pest Control in Ajman: Keeping Your Home Pest-Free
8. Commercial Pest Control Solutions in Ajman: Reliable and Safe
9. Pest Control Tips and Tricks to beat the hell out of pests
10. Emergency Pest Control Services in Ajman
11. How do you choose the right pest control company in Ajman?
12. The Final Takeaway
Introduction
Pests are unwanted organisms that we hate to see. But unfortunately, those pesky ones are seen irrespective of summer, winter, monsoon, or any other season. The most typical household pests are rodents, ants, cockroaches, carpet beetles, silverfish, fruit flies, and meal moths.
Each of these pests has a favorite season; for example, mosquitoes appear in the rainy season and cockroaches in the summer.
Mites, moths, beetles, aphids, caterpillars, and rodents are among the pests that prey on gardens. If you're tired of fighting these voracious pests in your garden or bugs in your house, there is a solution for you.
Contact Pestokill, the best cleaning service in Ajman. It is also a renowned agency for pest control in Ajman.
Stop practicing all of your useless and age-old DIY methods and opt for something that gets you results. Pest control in Ajman is now a piece of cake with Pestokill.
Let's see how Pestokill will help eradicate creepy pests from your home or workplace.
Pestokill: Ajman's Trusted Pest Control Expert
Pestokill is Ajman's leading pest control and cleaning service. There are no other pest control companies in Ajman that provide customer-friendly pest control solutions like Pestokill.
We are a group of highly experienced and well-trained cleaning experts committed to raising the standard of living by providing our services to get rid of pests from your property.
Try Pestokill's unique pest control management that is modern, safe, and reliable. Pestokill has served over 2,000 customers over the last 15 years with unique and exclusive pest management solutions.
Also, this pest control agency has completed over 5,000 projects and provides exceptional pest control services.
Why is Pestokill more demanded?
Application of cutting-edge modern technologies
knowledgeable and experienced staff
Emergency assistance
Customer-friendly services
Rapid pest elimination mechanism
Environmentally friendly pest removal treatments
Smart work culture
Fast pest removal service
Long-term results
Ajman Pest Control: A Solution for Every Pest
Pest control in Ajman is now easy with Pestokill. You can seek their service, and this professional pest control agency will keep you informed about every minute detail. This includes pest control services, pricing, hidden charges (if any), pre-service and post-service details, etc. Their ability to keep customers informed is one quality that makes Pestokill stand out from their competitors.
Hiring a professional residential cleaning service such as Pestokill has numerous advantages. You can simply sit back and relax on your sofa because they will care for everything. Additionally, you do not need to exert too much effort or become stressed out while dealing with pests.
If you believe that a pest control treatment can control pests on your property, you are mistaken. Remember that the effectiveness of the products used during treatment will only last for a limited time.
You might face future pest problems, depending on the age of your property.
Pestokill will always protect your property with annual maintenance contracts (AMC). Therefore, if you choose AMC, this Ajman pest control company will dispatch experts for follow-up treatments that are timed to suit your schedule.
Only a reputable cleaning service can use cutting-edge techniques to eradicate disease-causing pests from your home.
For more than 15 years, the reputable pest control and cleaning company Pestokill has served customers with residential, commercial, institutional, and industrial cleaning services.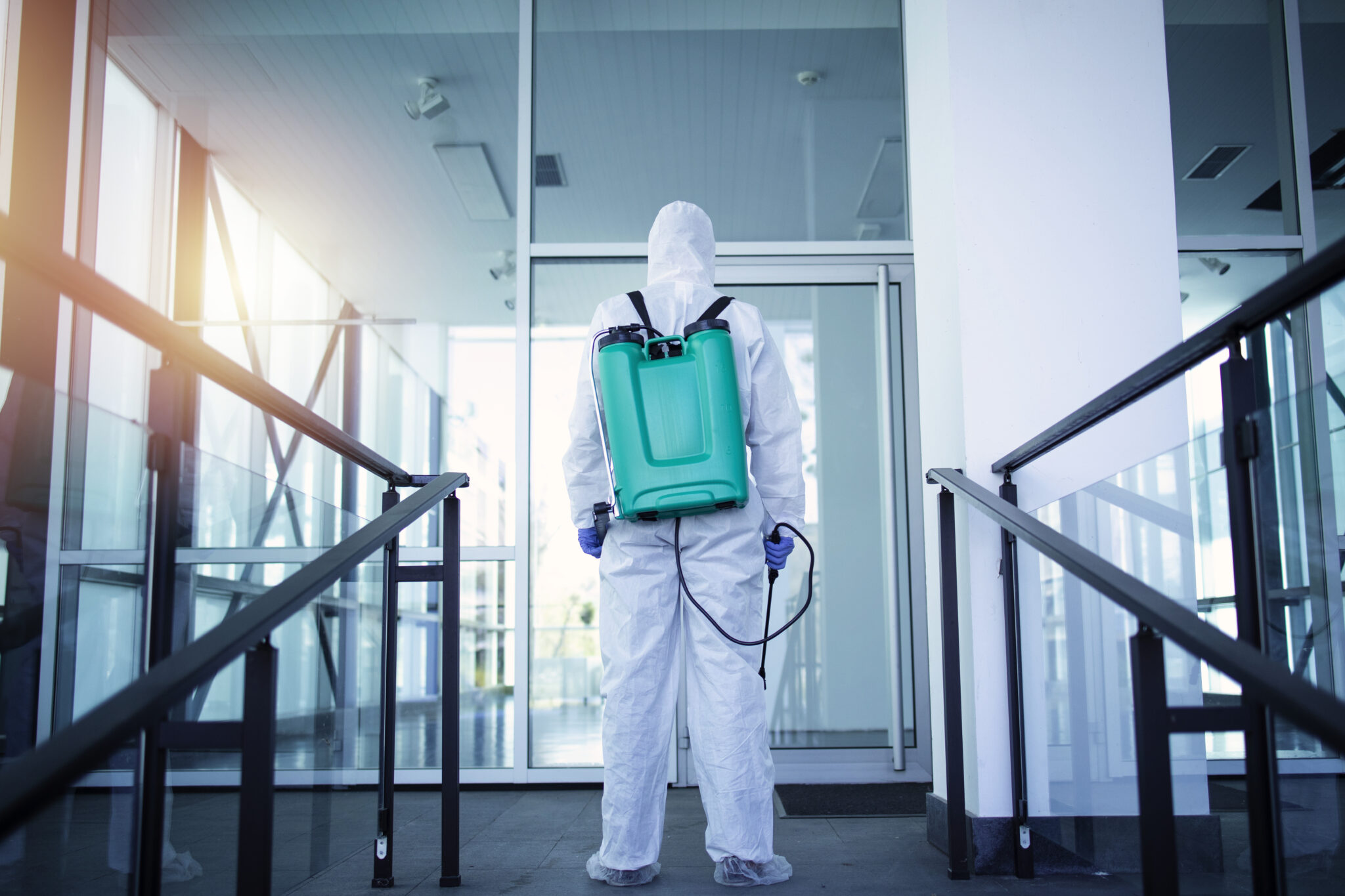 Affordable Pest Control Service in Ajman
We don't want to lose our precious money on useless pest control services, right? Hence, money matters. Also, ensure that you get the value you're receiving from this price.
You can get services at a cheap rate from some local pest control brands. However, low-quality chemicals and services come along with that. So, do not be duped by the prices they are offering.
You can rely on Pestokill, as this will give you reasonable pricing and value for your money. Being the topmost cleaning service in Ajman, Pestokill sets the standard for delivering top-notch cleaning services at affordable prices.
For example, Pestokill's roach control service is budget-friendly and includes a 3-step roach removal process.
Ajman's Top Pest Control Companies of 2023
Ajman is blessed with these top pest control and cleaning services. All these agencies have high-quality products and services. A pest-free environment is a guarantee once you hire any of these services.
Whether you are worried about mice, rats, cockroaches, fleas, or bedbugs, the below pest control companies offer services for residential and commercial properties in Ajman. All of these are licensed too.
Our Top-Picks
Pestokill
Newstar
AM pest control
Straight-line pest control
Gulf cleaning and pest control
Residential Pest Control in Ajman: Keeping Your Home Pest-Free
The residential pest control company in Ajman with the best reputation is Pestokill. They use a variety of methods to make sure your house is protected from pesky animals and keeps you safe. Pestkill's goal is to give you the best possible pest protection so that your investment is safeguarded.
Pestokill offers a safe and healthy pest control service. Also, they are capable of producing consistent, high-quality results in a specific amount of time, thanks to the use of modern technology by their trained professionals. They are the best at what they do, and that's their promise!
Don't miss services from this best pest control and cleaning service located in Ajman, i.e., Pestokill pest control service. You will find a comprehensive range of pest removal solutions at Pestokill.
Commercial Pest Control Solutions in Ajman: Reliable and Safe
Workplaces, like homes, must be kept neat and clean. So hiring Pestokill for commercial pest control is a wise decision. The company is your one-stop shop for all of your pest control needs.
Pestokill's experts and professionals have many years of industry experience and will provide you with honest advice and the most cost-effective solution.
Rodents, insects, ants, cockroaches, termites, bed bugs, wasps, flies, and birds are noted as pests on their list. If necessary, we can also provide fumigation, sanitization, and disinfection services.
Prepare to try our innovative pest control strategy in Ajman. Total pest eradication is guaranteed. Choose a professional and qualified pest control service, such as Pestokill, without delay.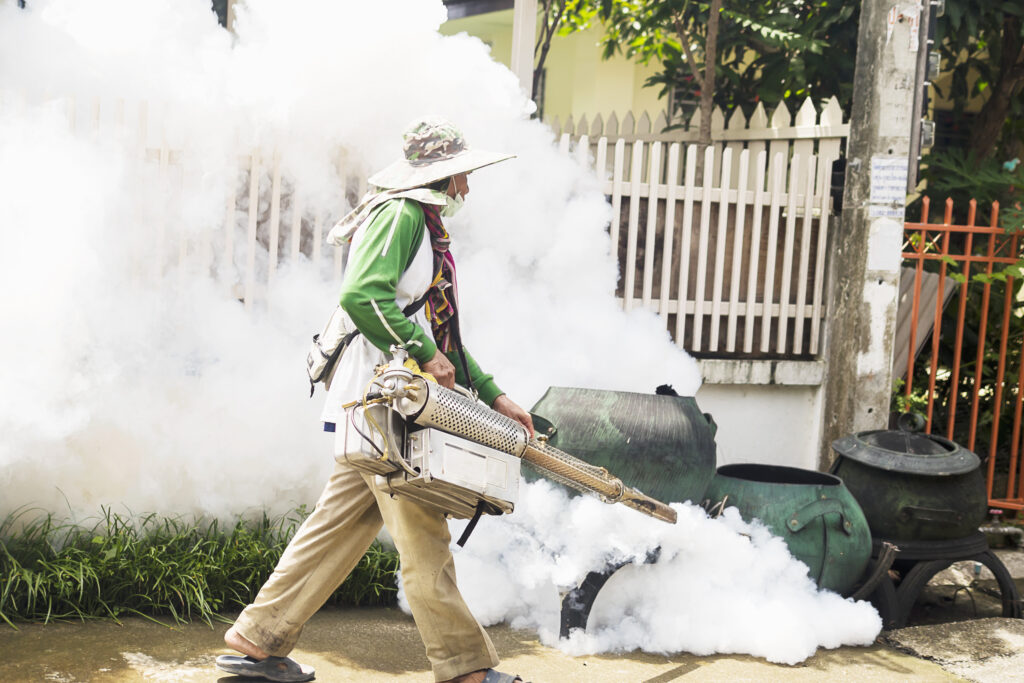 Pest Control Tips and Tricks to beat the hell out of pests
Know about the pest. Since preventative methods are applicable to all types of pests, you will want to focus on removing certain types of food (i.e., ripe fruits for fruit flies) or cleaning certain areas (vacuuming the carpet for fleas), depending on the pest. Or if you move forward with a pesticide, you will need to make sure it is suitable for the pest you are trying to kill.
Keep your yard untouched by pests by removing hiding places and breeding sites. There is a chance that wood piles under or around your home may attract ants. Insects are seen near tree clippings, standing water, fallen leaves, pet droppings, or dropped fruits. So it's better to destroy hiding spots and breeding sites.
Remove standing water. As insects and rodents are water-loving creatures, do not miss a single chance to remove standing water.
For this,
Try to keep your kitchen and bathroom as dry as possible.
Repair any leaking pipes.
Water should not accumulate in trays beneath plants.
Never leave your pet's water bowl out overnight.
Neatly cut your garden to limit pests. No insects will come to a carefully tended garden with good drainage.
A raised bed may be a good option, especially for clay soil that has poor drainage.
Try tilling the ground before planting to loosen it up, and then add sand for improved drainage.
Clear the area of debris to dislodge pests' dwellings.
Mulch can help keep weeds out, but make sure to remove it from the plants you are cultivating because mulch can serve as a haven for insect pests.
To repel pests, plant the right mixture of plants. Pests love monocultures, and exotic plants are frequently vulnerable to local pests. Pests can be reduced by changing what you plant from year to year and row to row.
Choose healthy seedlings that are appropriate for your location. Native plants, in particular, are frequently more pest-resistant.
Plant different kinds of plants in alternate rows, and mix ornamentals with your edibles.
Remove weeds by handpicking, hoeing, and spading to prevent pests from finding food and shelter there.
Place mice and bug traps.
Emergency Pest Control Services in Ajman
What's the use if the pest control company has bad customer delivery service even though it has a high-quality product and service?
No use at all. If there's no one to deliver their service to the customers, their business may come to an end, right?
Pestokill in Ajman is an exception in this case. This cleaning service in Ajman has expert pest control specialists who identify your pest infestation as soon as they first visit your home before sorting out the right pest control treatment for you.
Pestokill is enriched with top technicians and bug science experts. Customers will get emergency pest control services at reasonable prices only from this top cleaning service in Ajman.
How do you choose the right pest control company in Ajman?
There are certain things that should be kept in mind while selecting a pest control company if you want long-term results.
These are the qualities of the best pest control company
ability to always offer warranties
providing proof of certification and licensing
the application of government-approved chemicals
Follow-up treatments
Pestokill in Ajman is an industry leader and checks off all of the above points.
The Final Takeaway
Nowadays, everyone wants to live a healthy lifestyle. A healthy way of life is necessary for good health. But what if your home is dirty with pests?
That's why it's said to seek the service of Pestokill, where you get supreme-quality pest control services at reasonable prices. It puts customers' health and safety first.
You can find a team of skilled pest controllers at Pestokill Pest Control Services who carefully examine each unique home, office, or institution and successfully eradicate any pests in accordance with requirements and safety.
To combat any pest, we have a well-thought-out plan. We have an easy plan of action. We start by locating the infestation's origin. Then, to ensure that all pests are removed, we carry out a thorough removal process.
Say goodbye to all of your pest problems by getting qualified and professional service from Pestokill.